When it comes to cyber attacks, small businesses are the companies most at risk. According to Verizon's Data Breach Investigations Report 2018, 58% of all malware attacks in 2018 happened to small businesses alone. And as criminals keep making money from hacking computers, network systems and emails, the number of cyber attacks are increasing exponentially. According to the FBI Internet Crime Center, a bank robbery—once viewed as the most damaging type of financial crime—causes an average $4,410 in losses. To put that in context, in today's digital world, the average wire fraud from a compromised business email accrues over $35,000 in losses. That's huge.
And yet, despite these shocking statistics, many small businesses still aren't adequately protected; making them vulnerable to an attack that could, theoretically, ruin their whole business. Here are some points for small business owners to consider to protect their business from attack.
Protect your company from the top down.
Being fully secure requires involvement from all parts of the business, and that starts with the CEO. As cyber attacks become faster and more complex, it's imperative for C-Suite executives to make cybersecurity a part of their strategy and company culture. Review the chart below and ask yourself: "Where do we fall on this chart? Where do we really want to be?"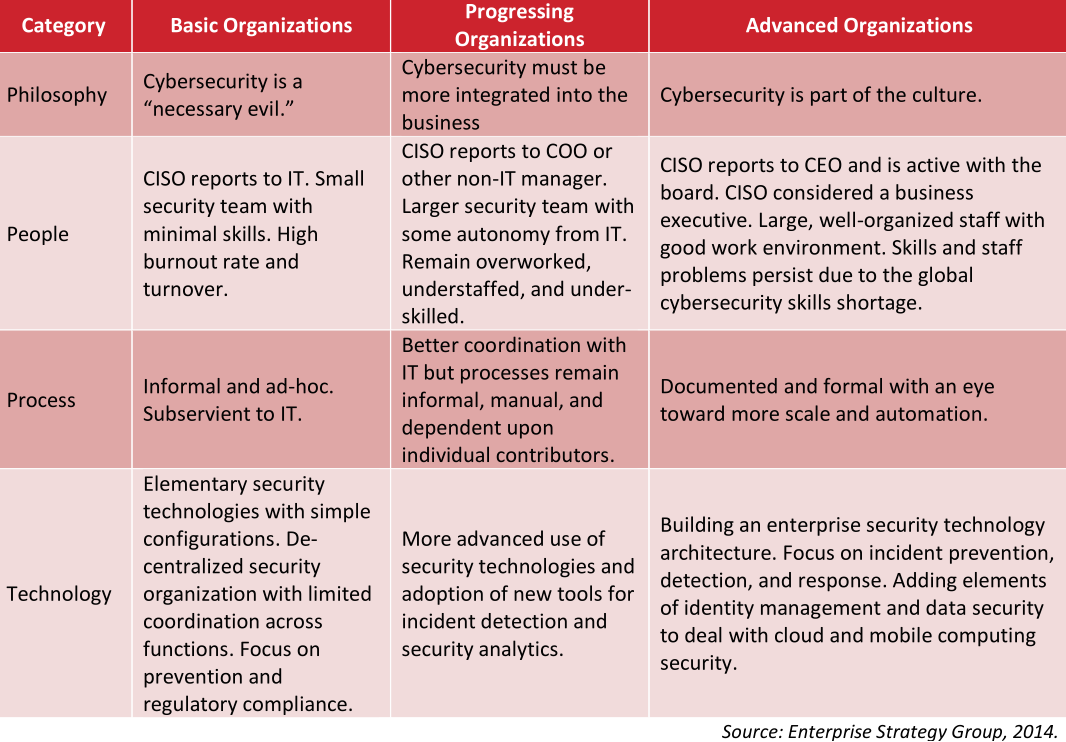 For today's companies, security isn't just about protecting critical business information; it's also about keeping public trust, safeguarding IT infrastructures and maintaining the company's reputation. To stay fully protected, small businesses need targeted policies, special training teams and IT professionals with the expertise necessary to deploy and manage top-of-the-line security tools and software.
Hire a Managed Service Provider (MSP) to analyze your cybersecurity efforts—and fix them.
When it comes down to it, cybersecurity is a business problem; and it requires help from professionals to solve it. The best thing companies can do is hire an IT provider to do a full analysis of their networks, computer systems and technology, find any areas of weakness, and fix them.
Make password management a priority.
Many companies overlook the importance of password management, and as a result, fail to enforce effective password policies. (Thankfully, a Managed Service Provider can do that for you, too!) Password management gives your company an extra layer of protection by requiring employees to use passwords that need at least ten characters, use certain symbols, or incorporate certain multiples of lower and uppercase letters. Another benefit of having a password manager is that it can store multiple passwords at once, which comes in handy for company employees who have to log in to different business programs.
Use data encryption to prevent hackers.
Data encryption plays an essential role in keeping your confidential information safe from unauthorized users. Encryption requires users to have a secret key to gain access to data, whether they are transmitting data from the internet or have it stored on company networks. By hiring an IT provider to encrypt your data, you make it nearly impossible for hackers and cyber criminals to gain access to information they shouldn't have.
In today's tech-savvy world, it's more important than ever to take the necessary precautions to protect your technology from cyber attacks. As one of the top Managed Service Providers in the industry, CompassMSP specializes in cybersecurity protection for a wide range of businesses. We understand the vast cyber threats companies face on a daily basis, and make it our mission to keep our clients protected.
Interested in learning more? Contact us today to schedule a FREE consultation.